Our Mission
We are committed to the goal of helping individuals to LEARN about Jesus, WALK with Jesus, and to GROW in Jesus-to follow IN HIS STEPS.
May you come to a place in your life where you have such a comprehension of His love that it compels you to not live for yourself but for the ONE who died for you.
Romans 8:38-39
For I am convinced that neither death, nor life, nor angels, nor principalities, nor things present, nor things to come, nor powers, 39 nor height, nor depth, nor any other created thing, will be able to separate us from the love of God, which is in Christ Jesus our Lord.
2 Corinthians 5:14-15
14 For the love of Christ controls us, because we have concluded this: that one has died for all, therefore all have died; 15 and he died for all, that those who live might no longer live for themselves but for him who for their sake died and was raised.
2 Corinthians 5:17-20
17 Therefore if anyone is in Christ, this person is a new creation; the old things passed away; behold, new things have come. 18 Now all these things are from God, who reconciled us to Himself through Christ and gave us the ministry of reconciliation, 19 namely, that God was in Christ reconciling the world to Himself, not counting their wrongdoings against them, and He has committed to us the word of reconciliation. 20 Therefore, we are ambassadors for Christ, as though God were making an appeal through us; we beg you on behalf of Christ, be reconciled to God.

Spiritual Seeker
Would you call yourself an atheist, agnostic, skeptic, unbeliever, or some other name? If you are on this page you are more than that, you are a Spiritual Seeker. Click Here to take a spiritual journey through this website. We will do our best to answer your questions or objections to Christianity and the Bible.
Follower of Christ
Arer you a born again follower of Jesus Christ? We have a variety of resources for you.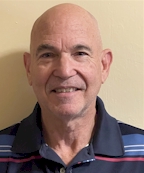 In His Steps Website, Creating Futures, There is Hope Radio and
There is Hope TV founder Preacher RichD (Richard D. Dover)
Preacher RichD was an atheist who became a sold out follower of Jesus Christ. In 1979 when he accepted Jesus Christ as his Lord and Savior the Lord called him into ministry. At that time he had no idea what that meant. He certainly did not know the journey it would take him on. From youth ministry, prison ministry, street ministry, recovery ministry, Senior Pastor.
Click Here to learn more about Preacher RichD.