In His Steps Ministries
Welcome to In His Steps Ministries

Are your steps and His in Unity?
It is our prayer that this site will help you on your Spiritual Journey

that they should seek God, if perhaps they might grope for Him and find Him, though He is not far from each one of us; [28] for in Him we live and move and exist...
Acts 17:27-28 (NASB)
Our ministry is dedicated to using the Internet to share the love of God to both Christians and to those who would call themselves atheist, agnostic, unbelievers, spiritual seekers, or any other name a person may call themselves.
Go to our Introduction Page, or just click any of the links on the left.
Read about our interview with skeptic Rick Wood. Read our defense of Christianity by going to the Spiritual Seekers section.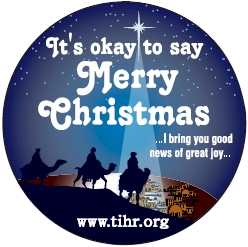 Are you tired of the politically correct phrase of Happy Holidays to replace Merry Christmas? Well, now you can make a statement by wearing this button wherever you go.
At the same time you will be helping to support a non-profit organization that helps those who are struggling with an addiction.
We also have yard signs that say Merry Christmas.
Go to www.tihr.org for more information and to order your 'It's okay to say Merry Christmas" button. Be sure and let others know about this button.
With all our other ministries we have not been able to update the In His Steps web site for a very long time.
Check out:
www.fairhavenhouse.info, www.thereishoperadio.org, www.sodc.tv


At ChristianBlogSites.com we provide FREE Blog Sites for Christians. Yes, you can have your own web blog for FREE.