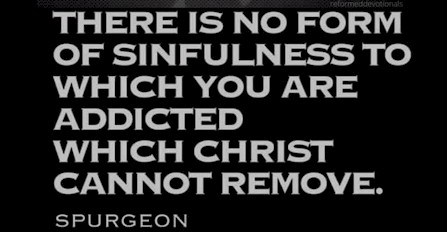 You Can Be Set Free From Sin Charles Spurgeon was absolutely correct when he said "There is no form of sinfulness to which you are addicted which Christ cannot remove."
Through the power of the Holy Spirit a person can be delivered from any sin that easily entangles them. Now of course, there is one thing that can prevent a person from being set free from controlling sinful behavior-themselves. A person has to want to be set free, and has to be willing to allow Jesus Christ to be the Lord over their life instead of their sin.
Therefore, since we also have such a great cloud of witnesses surrounding us, let's rid ourselves of every obstacle and the sin which so easily entangles us, and let's run with endurance the race that is set before us,

Hebrews 12:1
When one receives Jesus Christ as their Lord and Savior, they receive the Holy Spirit into their life. The same Holy Spirit that raised Jesus from the grave. If the Holy Spirit can raise a person from the grave, He can set a person free from controlling sin.
But if the Spirit of Him who raised Jesus from the dead dwells in you, He who raised Christ Jesus from the dead will also give life to your mortal bodies through His Spirit who dwells in you.

Romans 8:11
FREE INDEED
There is an amazing promise in the Bible:
Therefore if the Son makes you free, you shall be free indeed.

John 8:36
Isn't it time to ask Jesus to set you free from controlling sin? God is in the business of Creating Positive Futures. Start by asking Him to be your LORD and Savior-to take total control of your life so you can walk In His Steps. Read about the Gospel of Jesus Christ-the plan of salvation and deliverance.