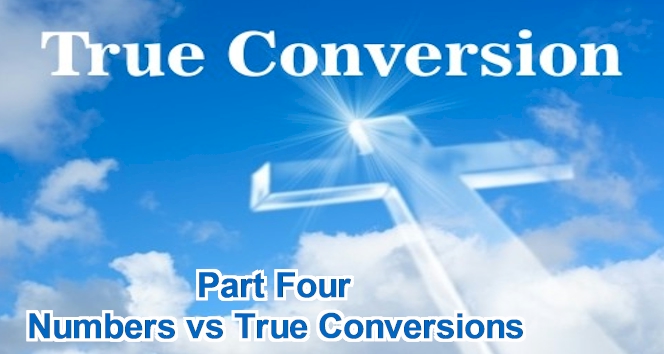 True Conversions, Part Four
In our previous nugget we spoke on the issue of individuals sharing the gospel and giving unbiblical promises or false concepts about heaven. One of the reasons Christians do this at times is because they desperately want to see people get saved. There is also the concept the more that get saved, the greater the servant I am. Most of you have heard about or know the Christian that brags about how many notches are on their belt.
Is the God of the universe into numbers? Is it more important to God that thousands accept Christ for false reasons than the truth that they are a sinner and need a savior? Jesus' life and example answers this question. Did He lessen His message so that more would come to Him and God? He literally spoke to thousands, but few followed Him. He literally healed hundreds, but few followed Him. Did he change the gospel so more would follow? Absolutely not!
The son of God did not see much fruit for all His efforts:
And Jesus answered and said, "Were there not ten cleansed? But the nine– where are they? Luke 17:17
This was a common experience. So, did Jesus see much fruit? Not during His time of ministry, but now the Gospel of Jesus Christ has been shared throughout the world. Jesus knew that only a few would grasp the gospel, but a few sold out for God can accomplish much. True conversions are much more important that numbers.
An all-out sinner who allows Jesus to take control of his life and truly be Lord will accomplish more for the kingdom of God, than someone who accepts Jesus because they want to be able to ride their skateboard in heaven. So, instead of being concerned about how many are led to Jesus, we should be desirous of seeing people truly converted. "And you shall know the truth, and the truth shall make you free." John 8:32
We should also mention that none of us know the heart of man. So, we should share the gospel with as many people as possible and not determine if they will be a true conversion. If we share the full gospel their conversion will be between them and God. Our responsibility is to share the gospel, not convert people. The problem is if we are not sharing the true gospel there will not be true conversion.
Success in the Kingdom of God is not measured by numbers. It is measured by faithfulness and obedience. So, let's faithfully and obediently lead as many people as possible to a true saving relationship with Jesus Christ.
In our next nugget we will speak on success on regards to Leading People to Christ.
True Conversions, Part One, Introduction
True Conversions, Part Two, Receiving Christ
True Conversions, Part Three, False Gospel
True Conversions. Part Four
True Conversions, Part Five, Success
True Conversions, Summary
Copyright 2003 Richard D. Dover. All rights reserved.
This material can be used without written permission if it is not used to make a profit, all comments are quoted in context, and this copyright tag is included with document. You must include the URL:
https://creatingfutures.net/2021/08/03/true-conversions/