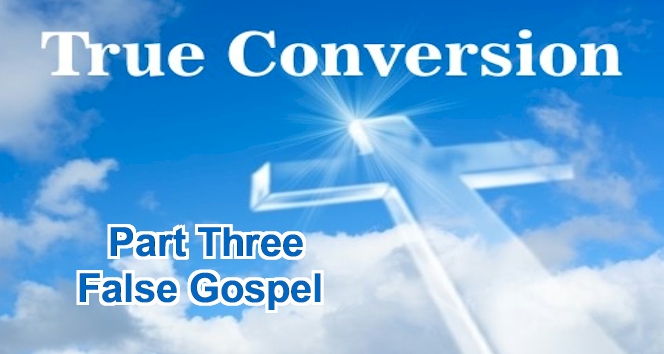 True Conversions, Part Three, False Gospel
Sometimes individuals are zealous to see people receive Jesus into their life. Being zealous can be a great thing. In fact, most Christians need to be more zealous in sharing their faith. Where there becomes a problem is when individuals are presenting a false gospel. In order to get individuals to receive Jesus, they give false promises and describe heaven in an unbiblical manner.

Being a Christian is fun and easy
Yes, it is true that being a Christian when your heart is right and you are walking in the spirit can be enjoyable and easy. But when you're walking in the flesh it is very hard to obey the will of God. Which leads to guilt and feeling condemnation from the enemy and conviction from God. When walking in the flesh we miss the will of God and walk out of the full covering of God. Serving God becomes hard and we feel like he has left us. The person feels like it is too hard to serve God and certainly does not see Christianity as fun and easy.
Even when we are serving God with our whole heart there are trials and tribulations. God refines us and it is not fun at the time. In fact, it can be very painful at the time. The refining fire can get very hot at times. A person should accept Christ because they are a sinner needing a savior, not because it will be fun and easy.
If you become a Christian God will meet all your needs and He will bless you abundantly
God will meet our needs and will bless us abundantly in the long term. But He is not Santa Claus. And our understanding of what our needs are and what blessing is quite different than His. The reality is that a person may receive Jesus and all hell break loose in their life. They may lose everything and then gain Him. A person should accept Jesus because He is Lord, not because of what they will get.
If you are wanting love, my church has all kinds of loving people
I hate to bring the news to you, but I don't care what church you go to-some of the people are jerks, not loving, caustic, and poor examples of Jesus Christ. And some of these people seem to have a way to hone in on new Christians. Christians can also be very cliquish. A person could become a Christian to receive love and they come to think the people at the bar were more loving. A person should become a Christian because they have come to understand Gods love for them, not to get love from others.
False Description of Heaven
At times individuals will describe heaven in an unbiblical manner. They hope to make heaven appealing so that a person will become a Christian.
I have heard people say if you go to heaven, you will be able to skate board, go boating, ski, etc. for eternity. Your dog will be in heaven. Your favorite uncle will be there. We have no idea if there will be skateboarding, boating, or skiing in heaven. We have no idea if our pets will be in heaven. We know nothing about the salvation of their uncle. In order to get someone to accept Jesus we try to make heaven appealing. Instead, it should be the fact that we will be in the presence of our loving Creator. He has prepared a place for us, we don't know what it is like, but we know it will be absolutely wonderful.
I do not believe the fear of hell will motivate people to serve Jesus. Neither will false promises about heaven. When you are facing tough times on this earth, you may not have hope for the future. However, if you understand the love of God for you, you can make it through the tough times when it seems He is not there. A person who truly understands the love of Jesus and what He did for them will automatically what to give love back to God. The more they comprehend his love for them as a sinner, the more they want to give their heart to Him.
We meet many people on the street who became Christians because of false promises and a false concept of heaven. Many of them are backslidden and feel Christianity didn't work for them. They are hopeless. Of all people, Christians should be full of hope. But if you come to God for wrong reasons or false concepts, you will ultimately be disappointed.
In our next nugget we will discuss the topic of Numbers verses True Conversions.
True Conversions, Part One, Introduction
True Conversions, Part Two, Receiving Christ
True Conversions, Part Three, False Gospel
True Conversions. Part Four
True Conversions, Part Five, Success
True Conversions, Summary
Copyright 2003 Richard D. Dover. All rights reserved.
This material can be used without written permission if it is not used to make a profit, all comments are quoted in context, and this copyright tag is included with document. You must include the URL:
https://creatingfutures.net/2021/08/04/true-conversions-false-gospel/