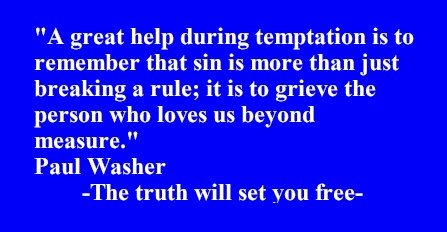 You Sin Grieves the Holy Spirit
Paul Washer makes a great point when he says: "A great help during temptation is to remember that sin is more than just breaking a rule; it is to grieve the person who loves us beyond measure."
It is much easier to sin when we do not think of the consequences to us or others. It is much easier to sin if we think no one gets hurt by our sin except ourselves. We need to realize that when we walk in willful sin we are grieving the Holy Spirit, the gift given to use by God to help us overcome sin. Reminder-God loves us so much He not only gave us salvation by sending His son on earth to die for our sins but raised Him from the dead to conquer sin and death. The same Spirit that raised Jesus from the dead was deposited into us at the time of salvation. Amazing Love!!! Let's not grieve the Holy Spirit that lives within us by walking in willful sin.
But if the Spirit of Him who raised Jesus from the dead dwells in you, He who raised Christ Jesus from the dead will also give life to your mortal bodies through His Spirit who dwells in you.

Romans 8:11
30 Do not grieve the Holy Spirit of God, by whom you were sealed for the day of redemption. 31 Let all bitterness and wrath and anger and clamor and slander be put away from you, along with all malice. 32 Be kind to one another, tender-hearted, forgiving each other, just as God in Christ also has forgiven you.

Ephesians 4:30-32
If we are truly born again and fully comprehend the love of God, the love of God will take control of our lives and we will be willing to die to self for the cause of Christ and to please the One who loves us.
14 For the love of Christ controls us, having concluded this, that one died for all, therefore all died; 15 and He died for all, so that they who live might no longer live for themselves, but for Him who died and rose again on their behalf.

2 Corinthians 5:14
FREE INDEED
We can be free from sin if we focus on the love of Christ and the power of the Holy Spirit instead of our sin.
Therefore if the Son makes you free, you shall be free indeed.

John 8:36
Isn't it time to ask Jesus to set you free from controlling sin? God is in the business of Creating Positive Futures.
If you are a Christian overwhelmed with sin, ask yourself if you are truly born again. If you are not a Christian, how about learning about the Plan of Salvation?