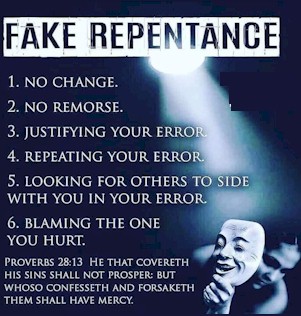 True Repentance or Fake Repentance
In order to be truly born again there should be evidence of true repentance. In order for there to be true change in a person's life there needs to be true repentance.
Sadly there are individuals who claim to have repented of theirs sins but in reality they have a fake repentance.
Fake Repentance
The signs of fake repentance are:
-There is no change.
-There is no remorse.
-Justifying of errors or sin.
-Repeating errors or sin.
-Looking for others to side with you in your errors or sin.
-Blaming the harmed one.
He who conceals his transgressions will not prosper,But he who confesses and forsakes them will find compassion.

Proberbs 28:13
True Repentance
When there is true repentance a person is not sad for being caught in their sins. Instead they have true remorse for their sins and they choose to do things differently.
Repentance: To turn from sin and dedicate oneself to the amendment of one's life, to feel regret or contrition, to change one's mind and actions.
For the sorrow that is according to the will of God produces a repentance without regret, leading to salvation, but the sorrow of the world produces death.

2 Corinthians 7:10
So the question is "Do you have a sorrow that produces repentance or a sorrow that regrets you have been 'caught'? Are you sure you are truly born again. If you are not a Christian, how about learning about the Plan of Salvation so that you can receive the forgiveness of God.