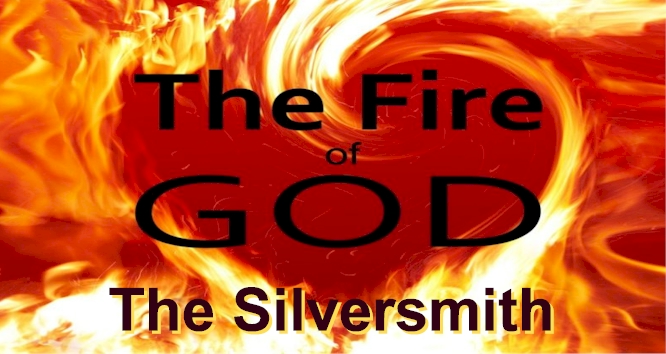 Fire of God-Part Four
The Silversmith
"But who can endure the day of His coming? And who can stand when He appears? For He is like a refiner's fire And like launderer's soap. He will sit as a refiner and a purifier of silver;

Malachi 3:2-3 (NKJV)
A lady went to watch a silversmith, to get understanding on this verse. The silversmith held a piece of silver over the fire and let it heat up. He explained that in refining silver, one needed to hold the silver in the middle of the fire where the flames were hottest as to burn away all the impurities. The woman thought about God holding us in such a hot spot – then she thought again about the verse, that he sits as a refiner and purifier of silver.

She asked the silver smith if it was true that he had to sit there in front of the fire the whole time the silver was being refined. The man answered that yes, he not only had to sit there holding the silver, but he had to keep his eyes on the silver the entire time it was in the fire. If the silver was left even a moment too long in the flames, it would be destroyed.

The woman was silent for a moment. Then she asked the silver smith, how do you know when the silver is fully refined? He smiled at her and answered, "Oh, that's easy –when I see my image in it."

If today you are feeling the heat of the fire, remember that God has His eye on you. Through the fire, He looks at you and He sees His reflection.
Consider it all joy, my brethren, when you encounter various trials, [3] knowing that the testing of your faith produces endurance. [4] And let endurance have its perfect result, that you may be perfect and complete, lacking in nothing.

James 1:2-4 (NASB)
Perfect and complete, lacking in nothing-sounds like Jesus to me.
Our next nugget will be on what to do when someone you know is experiencing the fire of God.
Fire of God-Part One, Introduction
Fire of God-Part Two, Consuming Fire
Fire of God-Part Three, Refiners Fire
Copyright 2003 Richard D. Dover. All rights reserved.
This material can be used without written permission if it is not used to make a profit, all comments are quoted in context, and this copyright tag is included with document. You must include the URL:
https://creatingfutures.net/2021/06/11/fire-of-god-the-silversmith/