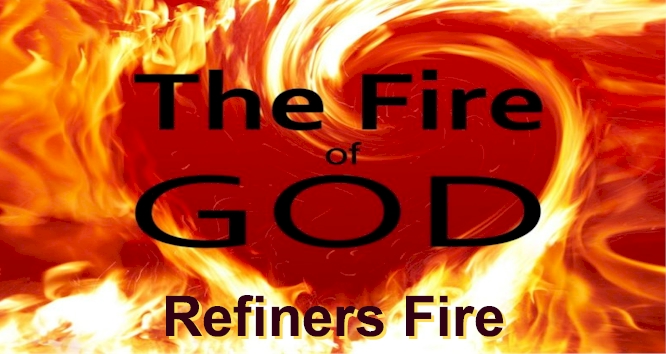 Fire of God-Part Three
Refiners Fire
In the last spiritual nugget we spoke on the fire that destroys-the consuming fire. In this nugget we will speak on the refining fire.
When we are going through the Refiner's furnace, it may be hot, it may not be fun, and we may wonder if we are going to survive through the fire, but we will not be burned. We will not even smell like smoke.
He answered and said, "Look! I see four men loosed and walking about in the midst of the fire without harm, and the appearance of the fourth is like a son of the gods!" [26] Then Nebuchadnezzar came near to the door of the furnace of blazing fire; he responded and said, "Shadrach, Meshach and Abed-nego, come out, you servants of the Most High God, and come here!" Then Shadrach, Meshach and Abed-nego came out of the midst of the fire. [27] And the satraps, the prefects, the governors and the king's high officials gathered around and saw in regard to these men that the fire had no effect on the bodies of these men nor was the hair of their head singed, nor were their trousers damaged, nor had the smell of fire even come upon them.

Daniel 3:25-27 (NASB)
Hallelujah! When we are going through the Refiners Fire, it is not because we have sinned. It is because the Lord is either molding us more into His image, or because He is using us to show off His glory. What a blessing to actually go through suffering so that we can reflect the character of God.
We should not run from the fire, but embrace it. It actually is also a consuming fire, but instead of destroying and devastating us, it consumes the dross; and instead of scars, we look more like Jesus in His glory.
Don't resist the Refiner's fire. Embrace it. Others may wish that you would be scared for life, but you will be a reflection of Jesus Christ. Others may believe you are going through the fire because of sin, remember, There is no condemnation to those who are in Christ Jesus.
In the next nugget we will share more about the Refiner's fire.

Fire of God-Part One, Introduction
Fire of God-Part Two, Consuming Fire
Fire of God-Part Three, Refiners Fire
Fire of God-The Silversmith
Copyright 2003 Richard D. Dover. All rights reserved.
This material can be used without written permission if it is not used to make a profit, all comments are quoted in context, and this copyright tag is included with document. You must include the URL:
https://creatingfutures.net/2021/06/11/refiners-fire/