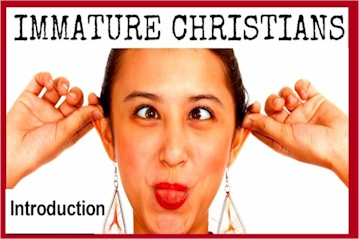 I am sure all of us have been around carnal, immature Christians. At some point of time maybe some of us have been immature Christians. When a person has only been born again for a few years, it is easy to accept and understand them being babes in Christ. What can be hard to deal with is people who have been Christians for several years (some for over 10 years) and they still are carnal, immature, and act like babes in Christ. This series of nuggets is going to address the issue of Immature Christians.
And I, brethren, could not speak to you as to spiritual men, but as to men of flesh, as to babes in Christ. I gave you milk to drink, not solid food; for you were not yet able to receive it. Indeed, even now you are not yet able, for you are still fleshly.

1 Corinthians 3:1-2
When Apostle Paul wrote 1 Corinthians he was writing to the church in Corinth. It was a church where individuals were walking in the spiritual gifts. They were operating in the gifts of healing, miracles, faith and much more. However, at the same time they were getting drunk at the Lord's Supper, not walking in love, there was sexual immorality, and much more. That is why Paul called them babes. He said they were fleshly.
Many individuals who call themselves Christians are walking in immaturity and carnality. We are not just talking about people who are backslidden. We are talking about individuals who attend church every week and may even be involved in church leadership. It is time for individuals who have been Christians for years to mature-to grow up and stop being babes.
In this series we will be speaking on Getting off the Bottle, Getting out of the Diapers, Get the Training Wheels Off the Bike, Becoming an Adult and Having Grandchildren. This will be a hard hitting set of spiritual nuggets. It is time for some to start eating solid food.
We want to remind you that our God is merciful and gracious and there is no condemnation for those who are in Christ Jesus. However, God does call us to repentance when we are convicted by the Holy Spirit.
Our next nugget will be Get Off the Bottle.
If you have been a Christian for years, maybe it is time to ask yourself if you are truly born again. Isn't it time to walk In His Steps? f you are not a Christian, how about learning about the Plan of Salvation. God has a plan for you to not only have eternal life, but to have an abundant life.
Immature Christians-Introduction
Immature Christians-Get off the Bottle
Immature Christians-Get Off the Diapers
Immature Christians-Get the Training Wheels Off
Be an Adult-Mature Christians Win Souls
Copyright 2003 Richard D. Dover. All rights reserved.
This material can be used without written permission if it is not used to make a profit, all comments are quoted in context, and this copyright tag is included with document. You must include the URL:
https://creatingfutures.net/2021/02/17/immature-christians-introduction/
Unless otherwise noted, Scripture quotations used are from the New American Standard Version (NASB).