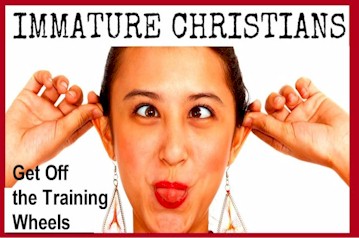 Immature Christians-Part Four, Get the Training Wheels Off. When children are young they are given tricycles to ride. We all know that they are given tricycles when they are young because their balance is not very good. When children get older their parents encourage them to ride a bicycle with training wheels. Then there comes a point when the child is feeling brave and they want to ride their bicycle without the training wheels. They become determined to do it. At first they may fall and get a skinned knee. They don't care. They are willing to risk injury just so they can become a 'big boy' or 'big girl'.
It is time for Christians to get off the training wheels. What am I talking about? RISK, RISK, RISK. It's time for Christians to get out of their comfort zone. It's time to do whatever God is telling you to do to change. It's time to do whatever it takes to be free from the sin that so easily entangles.
Are you willing to be stretched by God? As we try to become more obedient to the will of God, we have to realize that there is a good chance we are going to:
Fail
Make mistakes
Experience a 'crash'
If children can risk skinning their knee to learn how to ride a bike without training wheels, then we as Christians should be willing to risk it for God.
God has called each of us to reach out to lost people. That may be new to you. Be willing to risk. There are lost people dying. There are hurting people who are caught in bondage. It's time to jump up on the Harley and join the Heavenly Saints and reach the world.
Now that we have hopped on the motorcycle, it is time to be an adult. That will be the topic of our next discussion.
If you have been a Christian for years, maybe it is time to ask yourself if you are truly born again. Isn't it time to walk In His Steps? f you are not a Christian, how about learning about the Plan of Salvation. God has a plan for you to not only have eternal life, but to have an abundant life.
Immature Christians-Introduction
Immature Christians-Get off the Bottle
Immature Christians-Get Off the Diapers
Immature Christians-Get the Training Wheels Off
Be an Adult-Mature Christians Win Souls
Copyright 2003 Richard D. Dover. All rights reserved.
This material can be used without written permission if it is not used to make a profit, all comments are quoted in context, and this copyright tag is included with document. You must include the URL:
https://creatingfutures.net/2021/02/21/immature-christians-get-off-the-diapers/
Unless otherwise noted, Scripture quotations used are from the New American Standard Version (NASB).